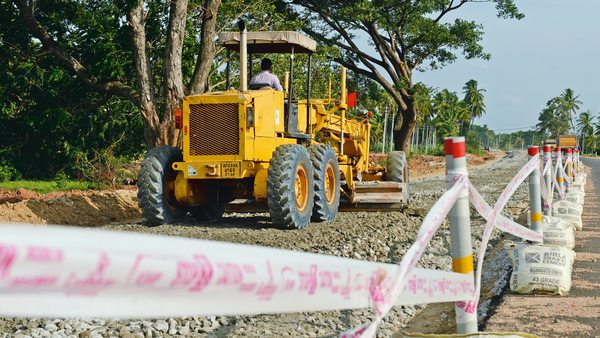 Mumbai: The Bharatiya Janata Party's (BJP) promise to invest₹100 trillion in infrastructure across the next five years has fired up optimism in the sector, with the party securing a thumping win in the 17th Lok Sabha elections.
The last five years have seen massive spending in roads, railways, water, irrigation and urban infrastructure. With a spate of mergers and acquisitions, the secondary market was active as well. In the roads sector alone, 52 projects worth₹37,019 crore were sold between 2015 and 2018, besides the new 30-year lease toll-operate-transfer (TOT) model introduced to recycle capital and auction operating road assets to private equity investors.
The first TOT auction fetched ₹9,681 crore, a 50% premium over the base price. "With the continuity in the government, the total budgetary allocation towards the major infrastructure segments is estimated to grow and remain in the range of ₹4-4.5 lakh crore per annum," said Shubham Jain, group head and vice-president, corporate ratings, Icra Ltd.
An executive at a road developer, who did not wish to named, said that now that elections are over, he expects the next round of TOT auctions soon. "Even though round 2 of TOT auctions were cancelled, we expect NHAI to seek bids for a package in Bihar, Jharkhand, Tamil Nadu and Uttar Pradesh next month. This will be in the range of ₹4,500-5,000 crore. This will push activity in the roads sector again now that private equity investors are comfortable with policy continuity and are looking for opportunities to invest."
Prateek Jhawar, director, Avendus Capital, concurred, "We're going to see a huge increase in infrastructure over the next 5-10 years. If you look at the BJP manifesto, they spoke of ₹100 trillion investment in infrastructure by 2024 whereas the UPA manifesto focused on social expenditure, which the industry was unsure of. I see huge investment in roads and ports primarily, and renewables is a sector completely backed by the Narendra Modi government."
"The industry was afraid that if the government changed, the 175GW target of installed capacity by 2022 would not continue. The government coming back is huge positive especially for the roads and renewables sector," he added.
In order to boost the economy and job creation, the government needs to keep investing in infrastructure, particularly urban infrastructure, smart cities, electric vehicle charging stations, upgradation of public transportation – all of these are expected to draw investments, Jhawar said . But the difference this time is who will take development risk.
"Development institutions have never really made money on their investments and I think the government will find creative ways to bring private capital to take development risk as well now, just as they did with the hybrid annuity model in roads."
Another area of focus should be modernization of ports. So far, we have invested in building only physical infrastructure and terminal capacity. But now the focus should be on modernization and automation, creating rail lines that connect ports to the hinterland, Jhawar said.
"Even today, at Jawaharlal Nehru Port Trust (in Mumbai) , it takes almost 24-36 hours to move cargo out. A lot more investment is required to shorten this."
In its first term, the NDA set an ambitious target of 175 GW of installed renewable energy capacity by 2022.
Today, India stands at roughly 70GW from wind, solar and hybrid sources, and bidding has been driven by the Solar Energy Corporation of India which assures regular payments to plant developers.
["source=livemint"]