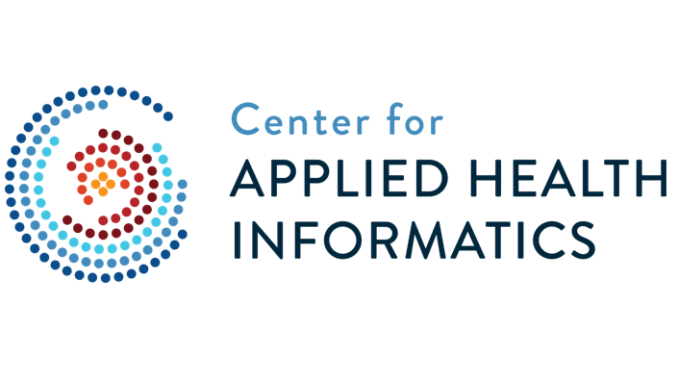 As patients, many of us have experienced using a digital patient portal or application to easily manage our care, such as myPennMedicine — Penn Medicine's online health portal. Like anything else, navigating a health portal can take some time at first. But once you get the hang of it, it can become an indispensable resource to manage your personal health. From requesting prescription refills to seeing lab results and scheduling appointments, there are many ways to participate in your own care.
But how do all these capabilities happen in a way that is easy for patients — and clinicians — to use and navigate? It is all thanks to coordination, security, and collaboration behind the scenes, and something called applied health informatics.
What is Applied Health Informatics?
Bringing information together in a way that makes it easy to understand and use happens through applied health informatics — the creation, aggregation, and use of health information for problem solving and decision making, motivated by a desire to improve health care outcomes.
Put simply, health informatics is the intersection of people, information, and technology in a medical setting.
Health care tools such as patient portals, telehealth, electronic health records, artificial intelligence, and mobile or desktop computer applications all require experts in health informatics. These experts focus on making sure health information is captured, displayed, and shared through systems to help clinicians and patients make good decisions about health care, all while keeping that information secure.
While most may think of the patient user experience, applied health informatics can also improve the way clinicians use tools — which can make processes easier and safer, improve job satisfaction, and it can even help reduce burnout. Applied health informatics also develops creative ways for clinicians to visualize data, so that key information clinicians need to make decisions is consolidated in one place and easily understood.
For example, one approach applied health informatics experts take for supporting clinicians is to show related information on a single screen whenever possible. This seemingly simple tactic can help clinicians recognize possible relationships among different pieces of information, to convey meaning, and to make the best decisions possible. A heart failure specialist, for example, might need to see the value for the pumping function of the heart, the patient's current heart medications, vital signs, and recent cardiac catheterization data all in one view.
That specialist also relies on standards for sequencing of results on a screen, so they can always know what values to expect in what order. If they expect a value for sodium to be shown first in a list of results and instead a glucose value appears first, there is a risk that the clinician might confuse the values and make an inappropriate treatment decision for the patient.
"Since computers began entering homes and workplaces in the late 1980s," said Susan Harkness Regli, PhD, a human factors scientist at Penn Medicine, "experts from many disciplines have been working to optimize the way screen design can assist and augment human cognition. Applied health informatics advances this mission in health system settings, where success directly affects patient safety and not just whether you can format your resume or get your movie to play on your laptop."
The Origins of Applied Health Informatics
The origins of applied health informatics even has some roots at the University of Pennsylvania. In 1946, the first programmable electronic computer was built in partnership with the U.S. military right on the University of Pennsylvania campus. "Penn Medicine has a deep history in pioneering the management of information and technology," said John D. McGreevey III, MD, an associate chief medical information officer at Penn Medicine. "The advancements of applied health informatics owe a debt of gratitude to Penn's achievements in this space."
Fast-forward to 2003, the Institute of Medicine (IOM; now called the National Academy of Medicine) placed a national spotlight on health informatics in their Health Professions Education report. In it, the IOM called out the need to use informatics to achieve truly modern health care to "communicate, manage knowledge, mitigate error, and support decision making using information technology." In fact, the IOM declared that applied health informatics was a core competency that all health care professionals must come to understand. Today we think of applied health informatics as a key element of a learning health system.
A learning health system systematically reviews internal performance data and makes process refinements with the goal of constantly, even relentlessly improving health outcomes and system performance. Having a well-architected information foundation maximizes the ability of health systems to review and improve performance in real time. Penn Medicine has created an infrastructure to support applied health informatics, which according to McGreevey, must be part of the nucleus of any learning health system to further enhance practice and performance.
The Penn Medicine Center for Applied Health Informatics
Officially launched in November, the new Penn Medicine Center for Applied Health Informatics brings together numerous groups at Penn Medicine that are already actively engaged in health informatics.
While applied health informatics is an essential component of Penn Medicine's research, clinical, and operational missions, currently many projects are initiated by individual groups or coalitions. This overarching center will help to build relationships and better tie together the work of these groups. For example, when charged by leadership with taking on a significant project, one that spans the health system and whose success can have a major positive impact on Penn Medicine, the Center will be activated to leverage this network of experts to coordinate efficiently across teams.
This vast network includes groups across Penn, which have a depth of experience working in applied health informatics, including Information Systems, Clinical Effectiveness and Quality Improvement, the Center for Evidence Based Practice, Penn Institute for Biomedical Informatics, the Center for Health Care Innovation, Penn Computer Science, EHR Transformation, and the Office of the CMIO.
While November signifies a formal launch of the Center, the Center's expertise has already been in play. For instance, when the COVID-19 vaccines were authorized for emergency use, the health system needed to ensure that vaccine administration maximized benefit, minimized harm, and promoted justice and transparency. Various teams came together and developed a multipronged approach to vaccinate not only Penn Medicine patients, but also the broader Philadelphia area community.
To create equity in distribution, a variety of tools were used to contact patients and community members, including the myPennMedicine patient portal, text messages, email, manual and automated outbound calls, web forms, and an inbound call line.
According to Colleen Mallozzi, RN, associate clinical informatics officer at Penn Medicine, "Of the first vaccination offers to 42,300 patients in December 2020, 17,300 individuals scheduled an appointment, a remarkable 41 percent conversion rate. The vaccination deployment team got shots in the arms of more than 140,000 people over the course of just three months." Behind this effort, information services professionals, data analysts, clinicians, operational leaders, and technology innovators used applied health informatics to make to make vaccines available to members of the community.
"We hope to define the best practices for using health information and related data in our health system as well as outside of it," said C. William Hanson III, MD, Penn Medicine's chief medical information officer. "We now have a mechanism for maximizing the impact of the organizations across Penn Medicine that will be members of the center, with a focus on high-priority projects for the health system. That is a task that will take the skills and experience of all of us working together for it to succeed."
["source=pennmedicine"]