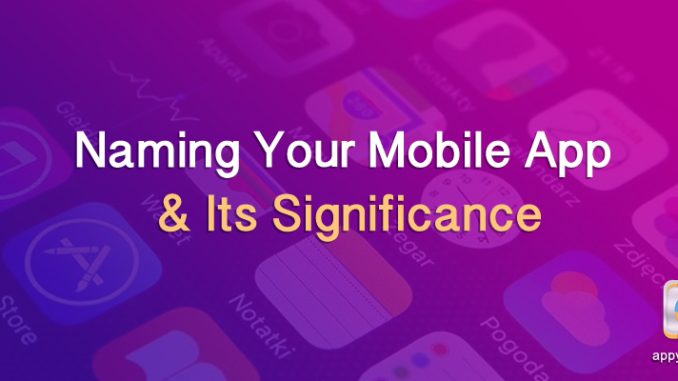 App Builder Appy Pie, January 4: The name by which your app would be called is of great and continuing importance. This would be the face of your app. This is what would help you get the word out to your prospective user groups. But how do you go about doing it? How do you name your app?
It takes a lot of efforts and structure thoughts to come up with a name that would make an impact even if you have a great app idea. The name of the app should be something that is closely related to the main function of the app, yet it should have the ability to make the users connect immediately with it.
Why is it important to name your app?
Why can't you just have the function of your name as the app? Why do you need to especially name your app? It is because of all the other apps that already exist! Recognition is one of the most important factors in determining whether a user would download your app and for that, name plays a crucial role. If the name of your app doesn't convey what the app does, then there is a good chance there'd be a conflict between the icon and the name.
Why can it become difficult to name your app?
While coming up with an apt name for the app, one needs to think of quite a few factors that include marketplace proliferation, recognisability, creativity, memorability and more. You might think about increasing the recognisability by modelling the name of your app on the popular apps and use their prefixes or suffixes to make your app fit in the category. Though you might think you have gained big in terms of recognisability, but they might eventually lose a greater deal in legitimacy.
Here's a list of tips and tricks that can help you name your app in a way that would work in your favor and help you increase the chances of your app being successful.
1. Make Sure That You Aren't Confusing The Users
When your app name sounds a lot like another popular, you might make some short-term gains from it, but in the long term, you don't really get much out of it. It is common to see a number of apps available across platforms that are named deliberately in a way that would create a confusion in the buyer's mind and dupe them into buying your app for some other popular app that they were looking for. Your app name might be approved by Apple or Google if you are not copying the whole title, but it is you as a publisher who would have to decide whether you want to come across as a cheap knock-off of a popular app, or build your own brand name.
2. Stay With Sentence Or Camel Case
It is quite easy to observe that most of the legitimate apps including the ones you probably have already installed on your phone use the Sentence Case or Camel Case. While you might think of taking a chance and using all small, or toggle case, or all caps to make the name of your app look different from the rest, but this is one of the fastest ways to delegitimise your app in the users' eyes. When you break the upper case or lower-case convention, you end up looking a tad sketchy and lose the trust of a prospective customer.
3. Follow The Brand Nomenclature
The name that you come up with, for your app is essentially going to be an extension of your brand. Browse through the best-selling, or most installed apps and you would realise that these apps are crystal clear in putting forth the name of the companies that they are a part of. A sense of familiarity would help your users remember the brand and form an association with it, however, in naming an app, if you stray too far off the course, the user might end up getting confused and disassociate from it altogether. It is a good idea to stay on brand and follow the brand nomenclature for better results.
4. Communicate The Value Of The App Quite Clearly
This is extremely important yet overlooked grossly. It's good to be clever, but in an attempt to be overly clever, the app name might lose its meaning and relevance leading to low brand recognition and recall. Steer clear of technical jargon or too much of a word play, instead try and find simple names that'd help the user find your app easily and understand the purpose of the app as well.
5. Make It Easy To Pronounce
There was a trend once of taking the vowels out of a name and making it sound cool! However, the trend died down soon and in its wake left behind a bunch of confused and frustrated customers. It is a good idea to come up with new words or concoct some words that talk about your app, but in doing so pay attention to the concern of pronounceability. Make sure that your prospective users can easily talk about your app without getting frustrated or embarrassed about not knowing the correct pronunciation.
6. Let It Be Easily Recognisable
When you begin considering the name of your app keeping the user appeal and emotion in mind, it is wise to keep in mind that the name of the app reveals the real purpose of the app. The perfect name of the app would help the users understand the point of the app merely by reading the name and looking at the icon. Additionally, if you have a brand that is already performing well, then you can use that brand recognition while naming your app. This is especially useful if your app is targeted to the existing pool of customers predominantly. The familiarity of the customer with the brand comes to play in this scenario inciting a familiar trust and faith in the clientele that they associate with the associated brand. When an app has an irrelevant app name, it is not only dismissed often by the users but at times rejected by the App Store as well. Google Play Store too warns the developers against picking app names that might have words which raise a spam alert.
7. Be As Relevant As You Can
The name of the app should immediately let the user know what the app does, the basic function at least. When the name of your app is relevant or closely related to the actual functioning of the app, the chances of it becoming successful are higher and the customers would be able to locate it without much trouble.
8. Conduct A Thorough Market Study
Especially if your app category is crowded or over populated, you need to conduct a through market study and understand the options that already exist. Browse through the apps and pay attention to how they are named and the emotions that they might evoke. Conduct an analysis of what you think works and what doesn't. the idea is to replicate their success not duplicate their names. Finding an alternate spelling or adding an extra syllable to the name a popular app will only make users question your authenticity and pass you over for a better sounding app.
9. Go Global
Some of the best performing apps are those that have a global appeal to them. Often the concepts tend to get lost in translation, hence making it important for you as a developer to take a global view on the name before putting it out in the global market. Your short-term plan might not include localizing your keywords, app listing or in-app content, but it is better to make this effort at the initial stages. This might prevent you from going to the trouble of having to change the whole name of the app once you decide to go global just because its connotation in the global market might harm your app, or you might already have an established competitor by the same name.
10. Invest Plenty Of Time
Your app wasn't developed overnight. You probably put some great thought into it and made every possible effort to ensure that your users have a flawless experience while using your app. Doing all this took time, efforts, and a whole lot of patience and perseverance. This is exactly what you have to do while naming your app as well. The name of your app is the first interaction a prospective customer is going to have with your app, so put in some thought into it. Let it scream its intent and benefits and stand apart from a milieu of apps that exist in the market.
11. Opt For A Two-Part Name
This is actually quite a catchy way to name your app, that is if you do it right! This is a simple way of naming where you pair the basic function of your app with an adjective or any other word that enhances it, making it look a lot more appealing. There are loads of example for this including Evernote, Wunderlist, Tweetbot and so many more!
12. Check For Duplication
Once you have a list of probable names, and probably a favourite emerging from among them, it is important that you check the marketplace for any duplication. It is not entirely improbable that the name you like may already be taken! Also, it is a good idea to test the name of the app among your close group of friends or family who you know would give you an honest feedback.
13. Try Tools Like Name Generators
Some of the start-ups have found it useful to resort to tools like name generators who would be able to guide you or nudge you in the right direction and help you jump the hurdle that you might be facing in finding a great name for your app. These tools can help give you new directions and ideas that you can then build upon.
14. Pay Attention To The SEO Factor
SEO or Search Engine Optimization is important to let the search engines find you and list you in their top results. When you employ a clever SEO strategy, it would help your app get a higher ranking. Use keywords that are most searched by the users in the name of your app and take the help of keyword search tools like Google AdWords and include the maximum number of keywords in the app description as well to get a higher search ranking.
15. Prefixes & Suffixes Might Come In Handy
There are bound to be times when you wouldn't get the desired app name and then getting the same domain name or a social media handle can prove to be nightmarish. In such cases certain suffixes or prefixes mighty actually come in handy. Get creative and use relevant suffixes like "app" or prefixes like "Get" or "Go" and find yourself a unique app name.
16. Stay Under 15 Characters For The Name
The limit of characters for naming your app is quite enough to come up with a creative name for your app and make it stand apart. However, it is the short and catchy names that actually make any kind of an impact. It is a wise to keep your app name strictly under 15 characters. Having a short app name ensures its memorability and increases brand recognition and recall. The longer the names, the tougher they are to read and pronounce. Imagine what would have happened if "WhatsApp" were named "What is happening with you?". Would it really have caught on as quickly and as widely as it did?
Concluding Note
Picking an app name is definitely easier said than done. It is one of those things that we do not attach much importance to when it comes to the whole process of designing and developing an app. The process of naming your app does not really need to be at the top of your list of priorities while developing your app, but it needs to be featured in your list of high priority jobs to be done. The thing is, you can't possibly promote your app, unless you have finalised a good name for the app and it is important to start promoting it as soon as you can to maximise the number of downloads upon the launch. It is important to analyse the whole marketplace and study your competition. Try and understand what are the things that they are doing right, and what are the things that they are doing wrong. Figure out ways to learn from others' mistakes. Though the rules and regulations for two of the biggest platforms – Google Play Store and Apple App Store are completely different, it is a good idea to come up with a name that suits both the platforms easily, even if you are planning to launch on only one platform as of now. Refer to the tips that we have outlined above for help with the process of naming your app and you would not really have troubles with this part of the process at least!
["source=appypie"]