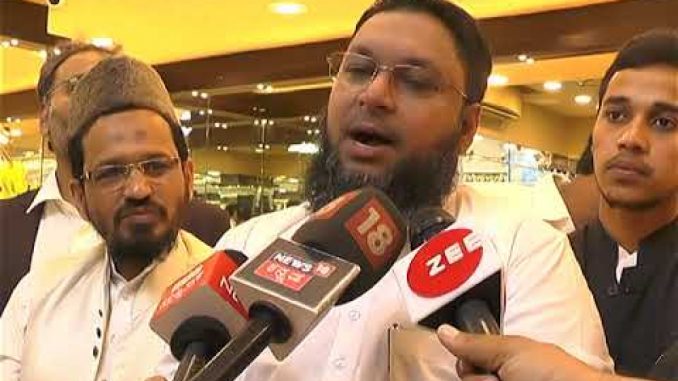 Thousands of irate investors gathered outside the office of IMA Jewels on Bowring Hospital Road in Shivajinagar on Monday (10 June), after its founder and managing director Mohammed Mansoor Khan went absconding. As a result, a heavy police force was deployed outside the IMA Jewels shop in Shivajinagar.
More than 1 lakh people have reportedly invested in IMA Jewels.
An audio clip, said to be that of Mohammed Mansoor Khan claiming to end his life owing to financial distress, went viral spreading further panic among investors.
In the audio clip, Mohammed Mansoor Khan is heard alleging that senior Congress MLA and former state minister Roshan Baig had taken Rs 400 crore from him, and refused to repay him after he failed to get a ticket from the party.
Mohammed Mansoor Khan also is heard making yet another startling allegation that he was being harassed by several politicians and government officers who had taken money from him.
Baig rubbished the allegations and claimed that the audio was fake. He suggested that it could be the handiwork of his own party people who want to tarnish his reputation.
The New Indian Express quoting a senior police officer reported that Mohammed Mansoor Khan may have already fled to UAE.
Special teams have been formed to trace Mohammed Mansoor Khan after Commercial Street police registered an FIR.
"He fled to UAE on Saturday evening. There were many people enquiring about his earlier complaints and coming forward to register complaints. Getting a hint of this, Mohammed Mansoor Khan managed to flee," the officer said.
Shortly after his return from a gulf nation, Mohammed Mansoor Khan founded I Monetary Advisory (IMA). After identifying demand for an Islamic investment, he began to offer several investment offerings.
For instance, Shariah does not allow investment in companies which deal with banking and insurance, manufacturing, selling or offering liquor or pork, or involved in gambling, amusement parks, entertainment etc.
Targeting Muslims, who as per religious diktat refuse to invest in interest-based businesses, IMA Group build a diversified portfolio encompassing bullion trading, educational academies offering pre-primary to higher secondary education, credit co-operative and housing society, health care services and a multispecialty hospital, hypermarkets and supermarkets, infrastructure and real estate development, printing and publishing and retail sales of gold, silver, diamond & platinum jewellery.
In November 2018, the Karnataka government issued a notice in Times of India (Bengaluru edition) to forfeit all movable and immovable properties of Bengaluru-based I Monetary Advisory Pvt Ltd (IMA) and its promoters and directors. IMA was found guilty of illegally collecting money from public, diverting the funds to its directors and defaulting on repayments.
Mohammed Mansoor Khan however had dismissed the notice and claimed that IMA legal team will take appropriate steps to set things right. He also said that he was deliberately done to sabotage the image of IMA group.
Despite such notices, IMA found favour with fellow faithful as it offered a bouquet of attractive investment schemes with monthly, quarterly and yearly returns. At one point of time, it doled out a 7 per cent monthly profit.
As the audio tape went viral, anguished investors thronged the IMA office and staged protest demanding that Mohammed Mansoor Khan return stheir money. A notice put up in front of the office declaring that the office was closed for Ramzan from 5 to 9 June. But when the office continued to be closed on Monday as well. Later, the investors queued up at the Commercial Street police station to file complaints against IMA Jewels.
["source=swarajyamag"]