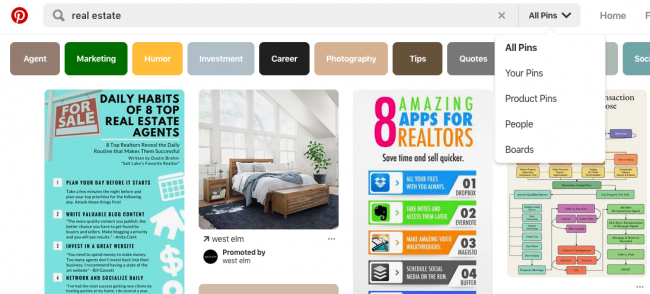 It's no secret that social networking is an essential skill for businesspersons of all types in the twenty-first century. However, the networks that readily come to mind, like Facebook, Instagram, and Twitter, can be difficult to market on because consumers expect to be sold to on these platforms, and are therefore wary of business accounts.
Pinterest, however, is a different story. The audience here is looking for something closer to a product; this is where they store their dreams and aspirations, their DIY decor ideas, even their shopping lists. Many online retailers have made use of Pinterest for this reason, especially considering that 40 percent of Pinterest users make more than $100K each year.
Marketing
While you may not consider yourself an online retailer, you are (or should be!) online and you do have something to sell. Or, put more accurately, you have something to offer.
One of the most valuable assets of this platform is the ability to search by topic or category. You can then narrow that search to Boards (collections of pins by individual users, including companies), Pins (individual "posts" or re-posts by users in that topic), or People (accounts, used by individuals and businesses alike, that affiliate themselves with a certain category).
Posts can be manually categorized, or automatically categorized through hashtags. For example, adding #realestate to your post will cause it to show up when someone searches for that hashtag. You can use this feature to access potential clients' preferences, inching into hashtag regions such as #interiordesign, #dreamhome, and other targeted topics.
Reputation
Not everything you offer on Pinterest can be bought or sold. On this platform, you can offer information on loans and homeownership; you can pin ideas from interior designers and home stagers you've worked with in the past; you can inform yourself of and cater to consumer trends.
Through Pinterest, you can build your reputation as a real estate professional in the know. You can also build an informal referral network by pinning other businesses' posts. You can also increase traffic to your website or blog by pinning images directly from your site.
Joining Group Boards on Pinterest is another way of establishing yourself as a knowledgeable professional. These boards already exist and have a following and thus carry with them a certain degree of credibility. By actively participating in them, you show that not only are you good at what you do, but you are passionate about it as well.
Research
While Pinterest can be used as a marketing tool, it is equally if not more effective as a barometer of consumer sentiment and preference. You can search trending hashtags to find out what people want out of their homes and their lifestyles. You can follow local businesses on Pinterest to investigate their marketing style and how effective it is.
Pinterest is a visual medium, and consumerism is visual as well. In one survey, 93 percent of active Pinners say that they use the platform to plan purchases.
This can be a great place to observe what catches the consumer's eye, and discern the patterns of content that allow it to do so. Through Pinterest, you can locate virtual communities that operate on both homogeneous and heterogeneous systems of preference, combining to form a network of desire that plays both directly and indirectly into users' lifestyle choices.
["source=realtyleadership"]