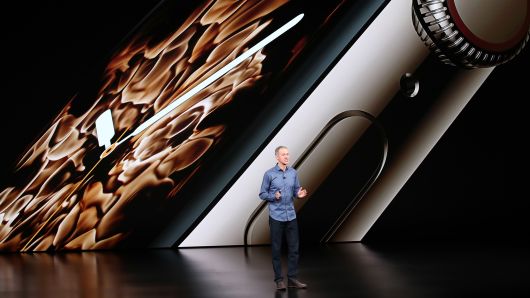 Apple announced Monday that it's working with the U.S. Department of Veterans Affairs to bring health records to the iPhone.
That means that vets receiving their care from the VA will be able to see medical information like allergies, immunizations, labs and procedures directly on their iPhones with just a few clicks.
"By bringing Health Records on iPhone to VA patients, we hope veterans will experience improved healthcare that will enhance their lives," said Apple's COO, Jeff Williams, in a statement.
Apple already works with dozens of hospitals that are integrated with its Health Records software, so their patients can access clinical information. But the VA, which represents 9 million people, is a big step forward for the company, as it's the largest medical system in the country.
It's also a big deal for people who aren't veterans.
Industry experts say that Apple is taking advantage of a bigger movement to force medical records companies and insurers to open up access to health information, which is supported by the government and different academic groups. Also this week, the Department of Health and Human Services shared its much-anticipated rules that are designed to prevent information blocking.
"The barriers are coming down," said Kenneth Mandl, a director of computational health informatics at Boston Children's Hospital and a longtime advocate of the "App Store for health" concept.
"And Apple is a first mover in taking advantage of these new laws and regulations," he said.
The earliest beneficiaries will be early adopters of Apple's health records software, who can use it to get their data from participating health systems, as well as veterans and patients enrolled in Medicare.
But Mandl believes it's only a matter of time before commercial insurers and other groups follow suit.
As this trend continues, anyone with a smartphone will someday be able to see their clinical record (what happened when they got treated at a hospital or clinic), and their claims history (what got billed). That unified data set will also open up a lot of opportunities for health app developers that can generate important new insights.
It's also good for patients, he said, as they can present everything to a doctor rather than having to be subjected to duplicate tests and procedures.
Mandl and others have already put decades of work toward making this a reality for patients, many of whom still must request records from every hospital or clinic they've visited. There's been a big trend toward open standards, as well as to reduce the crazy fees some electronic medical records providers charge to give third-party access to this data.
"Until now, the data systems that patients and doctors rely on for their care have been composed of many different companies' products run by many different hospitals without an overarching strategy for how they talk to each other, as well as other software systems," said Mandl.
But these rules promote a "universal approach for connecting apps to health systems, the same way you might connect an app to your smartphone."
["source-cnbc"]