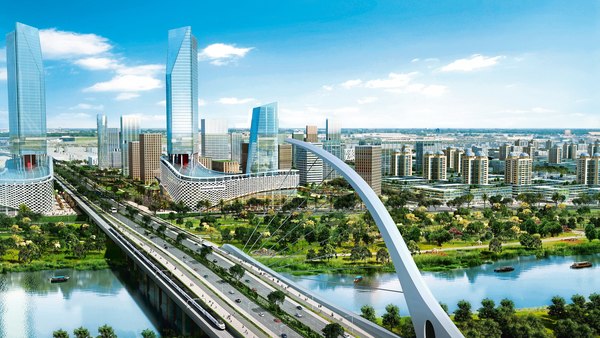 After the World Bank, Beijing-based Asian Infrastructure Investment Bank (AIIB) has withdrawn funding for the Amaravati capital city project in Andhra Pradesh (AP). A senior state government official confirmed the funding withdrawal.
"The AIIB, which was not an individual partner, was roped in by the World Bank itself. As the latter withdrew, it has also naturally done the same," said an official with the Andhra Pradesh Capital Development Regional Authority official, requesting anonymity.
The AIIB was to finance the upcoming city by providing $200 million, while the World Bank was to fund the Amaravati project with $300 million. Last week, the World Bank issued a statement saying that it has withdrawn the proposed funding after the Indian government on 15 July withdrew its request to the multi-lateral agency for financing the proposed 'Amaravati Sustainable Infrastructure and Institutional Development Project'.
Of the total $715 million required for the Amaravati project, it was planned that the World Bank and AIIB would together pump in $500 million, while the Andhra government would provide the rest.
The idea of a new capital city was the brainchild of former Andhra chief minister N. Chandrababu Naidu who decided to build a new capital city from the scratch instead of sharing the current capital Hyderabad with Telangana.
Telangana was formed in 2014 after Andhra Pradesh was bifurcated, with both slated to share Hyderabad as capital till 2024.
But Naidu wanted Amravati, situated between Vijayawada and Guntur, to be developed as a grand capital, complete with water fronts.
The Telugu Desam Party (TDP) government, under Naidu, had acquired 33,000 acres of agricultural lands from farmers, giving them compensation and also a part of land in the new capital itself. Naidu in a press conference on Tuesday censured current chief minister of the state Y. S. Jagan Mohan Reddy, saying Reddy has "killed Amaravati".
"I already said that he killed Amaravati. If you nourish it, it will be a gold mine. What was Hyderabad 20 years ago? An ecosystem came up after we developed it by building an airport and other amenities. To construct and create a brand image is very difficult, but very easy to destruct (it) overnight. That is what is happening now," Naidu alleged.
Another TDP leader, who did not want to be quoted, alleged that the AP government, led by Reddy, may be contemplating shifting the capital to a new location. "Everything to run a successful government has been initiated. He has a secretariat, an office, and other amenities nearby. Question is will the state government now return the lands acquired from farmers? AIIB withdrawing funding was a natural thing to happen once the World Bank withdrew," he added.
When contacted, an official from the chief minister's office, requesting anonymity, said senior leaders from the ruling YSRCP might clarify the government's stand on the decision in the ongoing assembly session.
A finance ministry official under condition of anonymity said when Jagan Mohan Reddy was in opposition, he had raised allegations of misappropriation of funds in the Amaravati project. "Hence, government found it prudent to withdraw support to the project when he came to power to avoid unnecessary controversy. AIIB may have withdrawn from the project following government's decision," he added. When contacted, AIIB spokesperson Laurel Ostfield said, " AIIB is no longer considering theAmaravati Sustainable Infrastructure and Institutional Development Project for funding,"
["source=livemint"]