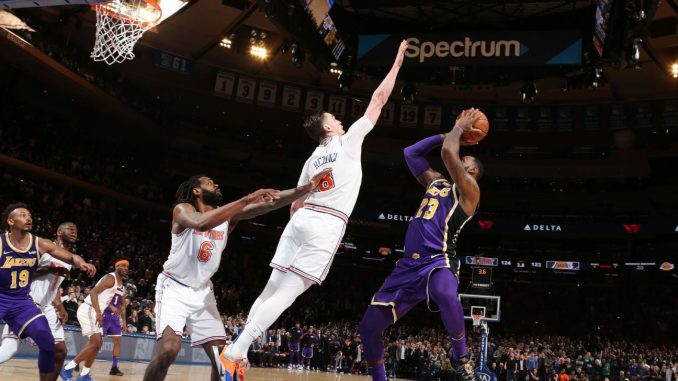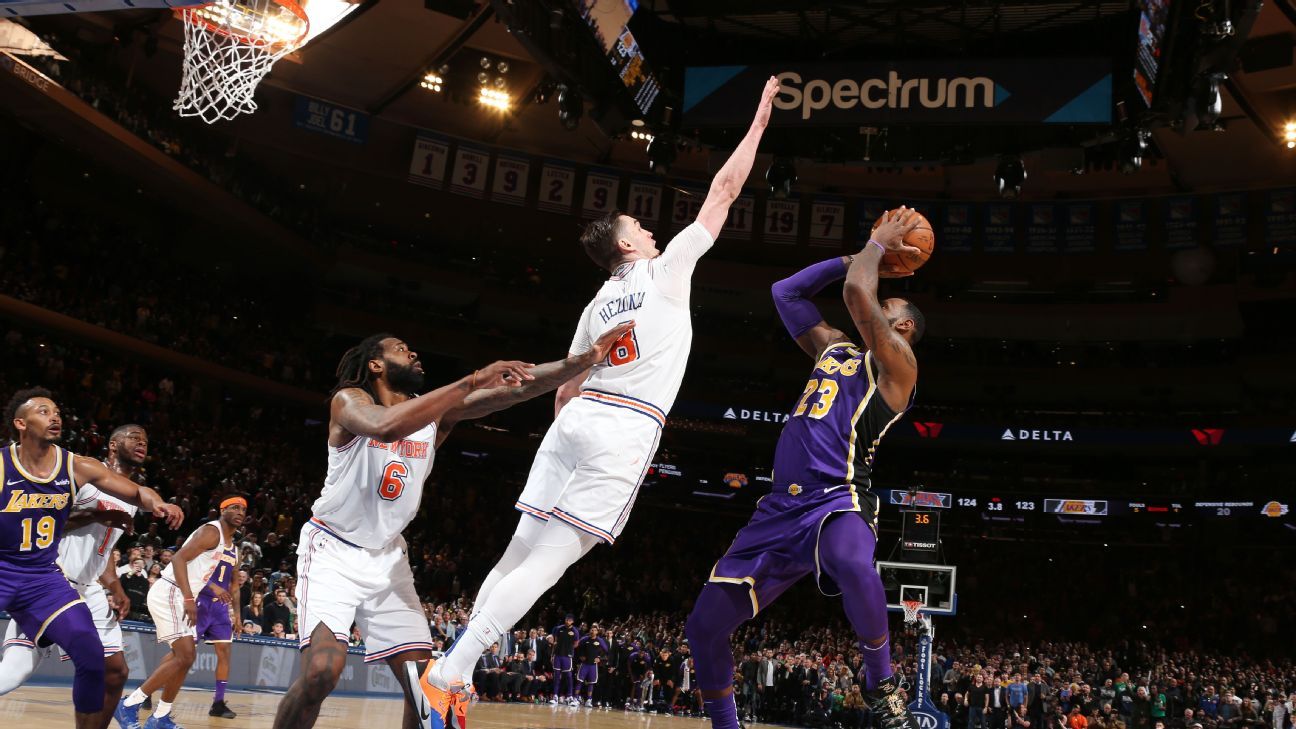 NEW YORK — The worst season of LeBron James' career since he was a rookie hit a new low Sunday with James' worst shooting quarter in his 16 years as a pro.
In the Los Angeles Lakers' 124-123 loss to the New York Knicks, James not only had his potential game-winning shot blocked in the final seconds by Mario Hezonja but he went 4-for-15 from the field in the fourth quarter — the 11 missed shots representing the most he has ever missed in a quarter, according to ESPN Stats & Information.
After trailing by 11 with 3:44 remaining in the fourth, the Knicks closed on a 13-1 run, with the Lakers going 0-for-6 from the floor — James accounted for four of those — and coughing up two turnovers to seal the defeat.
It completed a season sweep by a New York team that has a 14-56 record — worst in the NBA — making the Lakers the only team out of their 29 opponents the Knicks managed to sweep this season.
"It bothers me in the fact we didn't close the game out, and being the competitor that I am, it bothers me that I didn't make enough plays down the stretch; it bothers me that I didn't even get a shot up at the hoop," James said. "Of course that stuff bothers me, but I mean what's the difference between their record and our record? Two teams out of the postseason. So there's no difference. We have a couple more wins than them, but both teams right now are on the outside looking in, so it's not much of a difference."
The loss dropped the Lakers to 31-39 — their exact same record through 70 games as last season when they didn't have James. The .443 winning percentage makes it the worst team James has played on since his Cleveland Cavaliers went 35-47 (.427) his rookie year.
James led L.A. with 33 points and eight assists, but prior to the drive on Hezonja, he opted for two long jumpers in the final minutes and finished the game 0-for-6 from 3.
Both James and Lakers coach Luke Walton pointed to L.A.'s lack of defensive execution down the stretch, but the offense also stagnated. Asked if the Lakers moved the ball enough in crunch time, James said that indeed they did. "Yeah," he said. "Yeah. Absolutely."
It was the second time Hezonja burned the Lakers this season. Back in the Knicks' 119-112 win in Los Angeles on Jan. 4, Hezonja scored 10 points in the fourth quarter.
"He just missed shots. Don't get that twisted," Hezonja said Sunday of his defense on James. "He just missed shots. If you are saying you are the reason he's missing shots, you are an idiot. Pretty simple."
Still, Hezonja joined a select group of defenders to block James on a go-ahead field goal attempt in the final five seconds of a game. It has only happened six times to James, with Hezonja being the latest after Tobias Harris in January, Mason Plumlee in April 2014, Jimmy Butler in March 2014, John Salmons in February 2013 and Samuel Dalembert in April 2008.
Walton defended the looks that James got in crunch time.
"He's one of the all-time great players in our league," Walton said. "He understands time and score and everything else. So, he's earned that right to take the shots he feels comfortable with. As opposed to some younger guys, you draw things up and tell them what to look for and tell them where to go at what time. He's earned the right to feel that out and take the shots he feels like are going to be good for him."
The Lakers now trail the Clippers by nine games for the eighth and final playoff spot in the Western Conference with 12 games left to play. In other words, L.A. might as well turn its full focus to this summer's impending free agency.
James was asked what his message would be to players considering joining him with the Lakers.
"Listen, at the end of the day this franchise wants to win and wants to win big, and the one thing about the franchise, they cater to the players," he said. "And that's it. Everything else comes secondary, they only want us to go out and perform at a high level and play the game at a high level so we can be mentioned with some of the great teams that's in the league at that point in time. …
"There's a lot of great free agents this summer. Not going to name any names because every time I say something, or our organization says something about a specific person we get in trouble, but we have an opportunity to get better, and that's something that is definitely great to know that, when you have an opportunity to get better from a personnel standpoint."
Ian Begley contributed to this report.
["source=espn"]