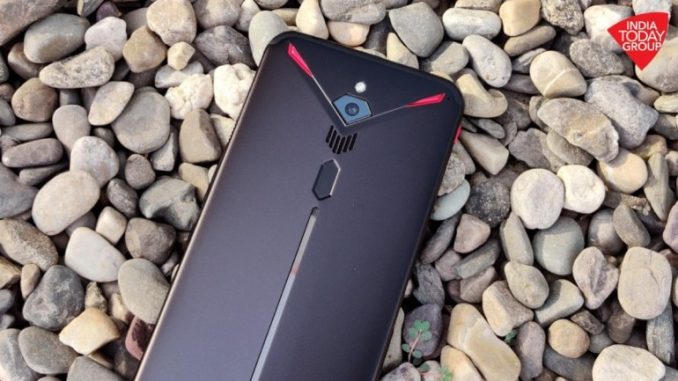 The gaming industry is buzzing now. For the last two decades, we have only been seeing impressive gaming titles for PCs, until last year when the concept of gaming smartphones took off. The mobile gaming industry is offering lots of business opportunities for device manufacturers and game developers. Last year, the Asus ROG Phone created a buzz in the Indian market and soon other players like Nubia and BlackShark entered the space. Nubia came up with Red Magic late last year for highly aggressive pricing and now we have its successor the Red Magic 3.
The original Red Magic was a purpose-built gaming smartphone and it excelled at that. However, as a regular smartphone, it was quite impractical to live with. This year, the Red Magic 3 aims to polish up the overall experience while ensuring the uncompromised gameplay experience stays. On paper, the Red Magic 3 can make mobile gamers drool with its crazy specifications, and more so when the price is considered Rs 35,999 for the variant with 8GB RAM and 128GB storage.
As a gaming smartphone, how good is the Nubia Red Magic 3?
As a gaming smartphone, the Nubia Red Magic 3 managed to blew my mind. These are what make this gaming smartphone so special.
This is the most powerful Android phone in the market right now
Not kidding. The fellows at AnTuTu managed to max out the Red Magic 3 with a score of 380,921. With this score, the Red Magic 3 beats all Android phones the Samsung Galaxy S10, Xiaomi Mi 9, OnePlus 7 Pro, BlackShark 2 you name it. And there's a very good reason for this score.
The Red Magic 3 runs on the Qualcomm Snapdragon 855 chipset that every other flagship smartphone in 2019 is using. The unit I had been using came with 8GB RAM and 128GB storage. You will find this combo all other gaming phones. However, what differentiates this from the rest is the custom hardware and a brilliantly optimised software.
Let's talk about the hardware first. The Red Magic 3 is the first smartphone in the world to use a fan-based cooling solution. The phone has actual vents that suck in air and throw it out to keep the temperatures under controlthis along with the liquid cooling system ensures that you get sustained peak performance. The capacitive shoulder triggers also make a return and as always, that makes playing fighting or shooting games much easier. The 4D vibration support also comes back and works well with supported games. A set of Pogo pins sit on the edges to accommodate Nubia's gaming peripherals.
The Red Magic 3 has another trick up its sleeves stock Android 9 Pie OS. Stock Android is naturally smooth and Nubia has optimised it further to ensure it works well to enhance the gameplay experience. Although it's stock Android, the phone comes with a Compete slider key, which when enabled, switches on the Game Space. This is a custom launcher that frees up the memory, dedicates all the resources for gaming power. It also offers several gamer-friendly options such as call and notification blocking, fan controls, snapshot shortcuts, CPU temperature, network speed and more.
How does this all add up? Well, the performance that this phone offers is simply unparalleled. I threw at it all the resource-intensive games Android supports Call of Duty Mobile, PUBG MOBILE, Fortnite, Asphalt 9: Legends, F1 Mobile Racing, Modern Combat 5, Mortal Combat and a few more. I was able to play all of these games for long sessions on the Red Magic 3 without experiencing any stutters or frame drops. All games run smoothly with high graphical settings. The metal body does make the phone warm after a while but the cooling systems ensured that the performance doesn't suffer. The 4D Shock enhances the gameplay experience in PUBG MOBILE and the capacitive shoulder buttons give a controller's ability to customise all game controls.
A 90Hz OLED display makes the experience better
A gaming smartphone is no good if it has a regular display. The Red Magic 3 gets a massive 6.65-inch OLED display that supports a maximum resolution of Full HD +. Similar to the Asus ROG Phone and OnePlus 7 Pro, this panel also gets a 90Hz screen. An OLED panel and 90Hz refresh rate you can't get a better combo than this. The OLED panel makes for vibrant colours and contrasts with good brightness levels and wide viewing angles.
The 90Hz refresh rate works well on the stock Android interface to make things look smoother. I was able to see the benefits of the 90Hz refresh rate in Asphalt 9 and PUBG MOBILE, making the gameplay seem smoother than usual. The Full HD+ resolution might seem inadequate but not many games support higher resolutions than that. All in all, this is a very good display and once you get used to it, it's hard to adjust to phones with conventional 60Hz screens.
Stereo speakers always help with gaming
The Red Magic 3 comes with a stereo speaker setup, which means you can play games like PUBG MOBILE without headphones and still manage to put on a good show. The audio quality is decent but the volume levels aren't that high. Luckily, the 3.5mm headphone jack is still present.
How is it like to live with as a conventional smartphone?
This is where Red Magic 3 is a mixed bag. You can use it as a normal phone but the experience won't be great. Let me explain.
It looks cool but may not be your perfect pocket companion
The Red Magic 3 carries on the design language from the previous Red Magic phones in the company's lineup. In fact, if you have seen the older phones, the Red Magic 3 would look almost identical, especially with its centrally mounted RGB LED strip, the angular metal body with a raised central ridge, the hexagonal fingerprint sensor and a single camera. However, Nubia has refined the design and made it curvier than before. The air vent adds to the cool factor but I wonder what happens when you expose the phone to dusty or humid environments. Nonetheless, the overall build and design of the smartphone feel solid.
If you are a gamer and love crazy designs, you will love every inch of the Red Magic 3's design. If you aren't a gamer, this then comes across as a phone you won't be flaunting in your social gatherings. The red inserts make it look gaudy and Red Magic logo glows in an awkwardly bright red. The central ridge also means you will encounter wobbling while it's kept on a desk. And don't forget that at 215 grams, it's heavy and with a massive 6.65-inch display, the Red Magic 3 ends up giving a new definition to the term bulky'.
Stock Android is good but there are rough edges
If you care about performance, you will love the Red Magic 3's stock Android interface. It's clean and doesn't come with unnecessary pre-loaded apps, apart from the Game Space launcher and a Nubia manual. Living with the phone is thus easy it always works the way you expect it to. However, stock Android doesn't necessarily mean a great user experience.
Google Pixel phones also use stock Android but Google overlays its custom Pixel Experience UI on top to make it feel premium. The Red Magic 3 doesn't get any such refinement, which means you are basically dealing with raw AOSP daily and that can be hard. The UI feels rough and dull something that shouldn't be the case on a gaming smartphone. Customisation options are limited as well and you will have to install a launcher to get the best out of it. Even the camera app is basic which ends up restricting you from the phone's potential. Speaking of the cameras
Yay for 48MP camera, Nay for no optimization
The Red Magic 3, like most 2019 smartphones, comes with a 48-megapixel Sony IMX586 camera with F1.7 lens at the rear and a 16-megapixel front camera. There's no fancy dual camera setup like you get on a BlackShark 2 or the ROG Phone.
Putting a flagship-grade camera sensor in one thing and optimizing it to get the best results is another. Nubia hasn't optimised the camera well enough, which means despite a highly capable sensor, the camera performance is just average.
In daylight, the Sony IMX586 can naturally capture more light and therefore, deliver good-looking photos. Pictures, therefore, have vibrant colours and lots of details. The phone struggles to manage exposure which means you may end up getting slightly dull photos in certain situations. The 48-megapixel photos lose colours slightly but you get the full 8-megapixel sharpness. In low light, the camera is capturing enough light data but the photos aren't processed properly. As a result, lights sources are overexposed and noise is visible. The video performance is quite good as the phone manages to shoot 4K videos at 60 fps with vibrant colours and quick autofocus. There's also an 8K mode in beta and that works quite well brightly-lit scenarios.
The front camera performance is decent with bright colours. However, the portrait mode separation is hit-or-miss most of the times. Overall, the cameras on this phone are good enough for taking photos but don't expect great results.
The Red Magic 3 lasts quite long
To ensure the phone lasts long, the Red Magic 3 gets a massive 5000mAh battery and comes with 27W fast charging. And as the specifications promise, the Red Magic 3 lasts quite long. While using this as a daily driver, I managed to get up to two days of backup under moderate usage watching YouTube videos, making lots of calls, incessant texting, light camera usage and web browsing (mind you, no gaming sessions). When you include at least two hours of gaming into the mix, you will need to charge it by the end of the day.
The gaming phone you wanted
As I said earlier, there are a lot of gaming smartphones you can buy right now and all of them have top-class specifications. The Nubia Red Magic 3 is the only one that is purpose-built. The standard Snapdragon 855-class performance with PC-grade cooling system ensure top-class performance, the 90Hz OLED display makes everything look punchy, the shoulder buttons and vibration feedback enhance the gameplay experience and the massive battery ensures you won't have to sit with the charger plugged in. And all that for a starting price of Rs 35,999!
The Red Magic 3 feels like it has been designed by gamers and that's a good thing if you love games. But if you are looking for a practical all-rounder, you may struggle to find a reason to buy this. As a daily driver, you have to compromise with practicality. This then only makes sense as a secondary device that goes with you in your backpack and comes out when you sit down for an hour-long session of PUBG with friends.
Overall, if you want a very powerful smartphone for gaming without hurting your wallet massively, go ahead and buy the Red Magic 3.
["source=indiatoday"]