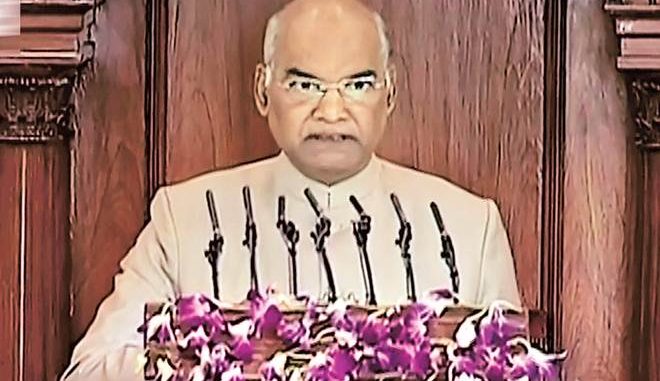 President Ram Nath Kovind said on Thursday that the second term of the Modi government will introduce more reforms, bring in a new industrial policy, raise investment in the farm sector, offer collateral-free loans to entrepreneurs and further simplify the goods and services tax (GST) to spur growth.
Industry 4.0 (the new industrial policy) — which is aimed at creating jobs and attracting $100 billion of FDI annually (against a record $60 billion in FY18) — will be launched soon. Direct benefit transfer (DBT) has helped save Rs 1.41 lakh crore of subsidy from being cornered by unintended beneficiaries, said the President. "It has also enabled deletion of names of about 8 crore ineligible beneficiaries," he said. "DBT will be further expanded in the coming days."
In his customary address to the joint sitting of the two Houses of Parliament, the President said more than Rs 12,000 crore has been disbursed to farmers in just three months under PM-Kisan. The scheme — under which every farmer is offered Rs 2,000 in four months — is now expected to cost the government Rs 90,000 crore a year, he said. This is Rs 3,000 crore more than the initial estimate when the ambit of the scheme was expanded last month. As much as Rs 25 lakh crore will invested to enhance farm productivity in the coming years.
"Today, India is among the fastest-growing economies in the world. Inflation is low, fiscal deficit is under control, foreign exchange reserves are growing and the impact of Make In India is clearly visible," he said. "To maintain a high growth rate, the reform process will continue. It is our objective to make India a $5-trillion economy by 2024."
"Indirect tax system is also being made simple and effective. With the implementation of GST, the concept of 'one country, one tax, one market' has become a reality. Efforts to further simplify the GST will continue," he said.
Kovind's speech comes at a time when various government departments are working on proposals to reverse a growth slowdown, tackle farm distress, create jobs and attract private investments. While GDP growth slipped to a five-year low of 6.8% in FY19, the forecast of below-normal rainfall in many parts of the country raised risks of agrarian distress.
A national retail trade policy is on the anvil, the President said. Earlier this week, commerce and industry minister Piyush Goyal also sought to allay fears of local traders by making it clear that the government won't allow FDI in multi-brand retail. Having jumped 65 spots over the past five years in the World Bank's 'Ease of Doing Business' index, India now aims to break into the league of top 50 nations, from its 77th position last year, the President said.
After the success of the 'Jan-Dhan Yojana', the government is working to bring banking services to the doorsteps of the people, Kovind said. "About 1.5 lakh post offices in the country are being prepared to provide banking services through 'India Post Payment Bank'." The Pradhan Mantri Mudra Yojana is being extended to cover 30 crore persons and a facility for entrepreneurs to avail loan of up to Rs 50 lakh without any guarantee will be launched. Also, the credit guarantee coverage is being enhanced to Rs 1 lakh crore for the MSME sector.
He said by 2022, the 75th anniversary of independence, farmers' income will be doubled; every poor will have a pucca roof and access to clean fuel, electricity and medical facilities. No poor will be compelled to defecate in the open. Every village in the country will be connected by roads, and the country will be "progressing towards joining world's three largest economies."
["source=financialexpress"]