Let's be honest: Sometimes our beauty and skincare routines get the shaft when we travel. We might not pack our toiletry bag with the kind of care it deserves (while simultaneously packing four books and 50 pairs of underwear that'll never see the light of day), and we might forego our usual cleansing and moisturizing regimen entirely. With pro insight, we've rounded up a list of the most common travel beauty mistakes so you can do your best to avoid them on your next vacay.
Mistake #1: Using Facial Wipes Instead of Cleanser
"We've all done it because they're so convenient, but cleansing with only face wipes is going to lead to trouble for your skin by the time you arrive back home," says Sarah Lore, a licensed aesthetician and founder of Apothecary Co. "While they're good for a quick cleanse in a pinch, they don't get your skin totally clean and can even strip the skin of valuable oils, creating a cascade effect of imbalances to deal with later on."
Mistake #2: Eating Salty Foods & Drinking Booze Before/ During Your Flight
Treating yourself pre and mid-travel is all fun and games until you end up dehydrated and puffy!
"Eating salty foods and drinking alcohol while on land already causes swelling and dehydration. Add in high altitudes, low humidity, and air pressure in the cabin, and it's a recipe for dry, dull, puffy skin," notes board-certified dermatologist Dr. Geeta Yadav.
She recommends sticking to fruits, veggies, and unsalted nuts. And if you do want to imbibe, drink slowly and alternate with a full glass of water.
Mistake #3: Forgetting Your Skincare Tools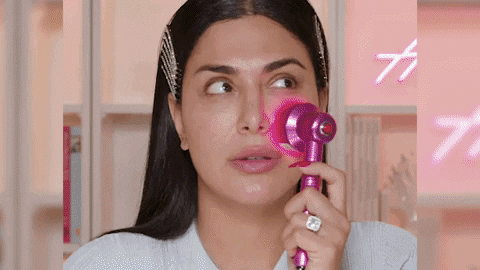 All the above said, there's still a solid chance our diets will change a bit while on vacation. Indulge, but note that what you eat can impact your skin.
"A super easy fix? Pack a skincare tool that can help alleviate swelling and inflammation, like a gua sha stone or facial roller," says Lore. "With just a few swipes, skin will start to let go of additional fluids, which will decrease puffiness. Circulation will be restored, and skin will be bright and glowy again." Try the Mount Lai The Rose Quartz Gua Sha Facial Lifting Tool, $28.
Mistake #4: Completely Foregoing Your Skincare Regimen
You're the one taking a vacay – not your skincare routine! Maintaining a consistent skincare regimen will help keep your skin gorgeous and glowy.
Dr. Yadev says, "While traveling, your skin is especially vulnerable [due to] different climates, planes, and a likelihood of more alcohol and indulgent meals. It's also more prone to breakouts, irritations, and dehydration."
She recommends bringing travel-sized or decanted versions of your go-to products with you (try Cadence or Palette by Pak), along with a tool and some extra hydration via serums or sheet masks.
Mistake #5: Not Doubling Down on Hydration Before Flying
Since airplanes are notoriously drying, it's important to use more moisturizing/hydrating products the day before, day of, and day after your flight.
"Use a serum on damp skin followed by a rich moisturizer to lock in that hydration before you even step onto your flight," suggests Lore. "This will help to prevent tight, itchy skin upon your arrival. For people with extremely dry skin, using an overnight moisturizer will give an extra hydration boost."
Mistake #6: Using Too Much Eye Makeup in Tropical Locales
If you're heading somewhere tropical, humid, or hot, it's better to forego extra eye makeup and instead keep it simple, says Laura Geller, makeup artist and founder of her eponymous cosmetic line.
"Due to perspiration, the pool, beach, or sun, sometimes if your [eye makeup] isn't waterproof, it can end up where it doesn't belong – like on your eyelid or under the eye," she warns. This can also create some irritation. She recommends a swipe or two of waterproof mascara and maybe some waterproof eyeliner.
["source=hudabeauty"]