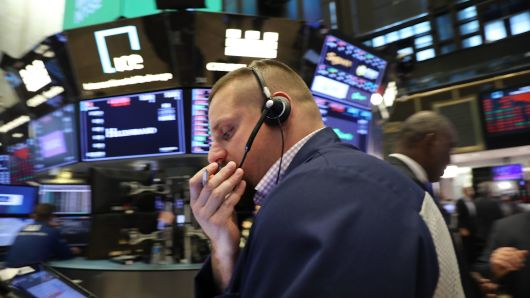 Check out the companies making headlines before the bell:
Under Armour – The athletic apparel maker earned an adjusted nine cents per share for the fourth quarter, beating the consensus estimate of four cents. Revenue also beat forecasts, with results being helped by higher sales and fewer discounts.
Molson Coors – The beer brewer beat estimates by five cents with adjusted quarterly profit of 84 cents per share. However, revenue fell below forecasts. Molson also said it would restate its financials for 2016 and 2017 due to accounting errors relating to its partnership in MillerCoors. It adds that the financial impact of the changes will not be material, but that it did have "material weakness" in internal financial reporting controls at the end of 2018.
Cisco Systems – Morgan Stanley downgraded the networking equipment maker to "equal-weight" from "overweight," saying Cisco's continued strength and growth in security-based networking is already priced into the stock.
Wolverine World Wide – The maker of shoe brands like Saucony and Hush Puppies announced a 25 percent dividend increase and a new $400 million share repurchase program.
Coty – Private equity firm JAB announced a tender offer to increase its stake in the cosmetics company by 150 million shares. The offer price is $11.65 per share, and a successful offer would bring its total holdings to just under 451 million shares, or about 60 percent of the company's common stock.
Shopify – The online shopping and payment systems provider earned an adjusted 26 cents per share for the fourth quarter, six cents above estimates, with revenue also topping Street forecasts. Results were boosted by an increase in business signups as well as higher payment processing revenue.
Gilead Sciences – Gilead said an experimental drug designed to treat a liver ailment known as NASH did not meet its main goal in a late-stage study. The market for NASH treatments is expected to reach up to $35 billion, according to industry analysts.
Colgate-Palmolive – Colgate named chief operating office Noel Wallace as its next CEO. He will take over on April 2 from Ian Cook, who has held the CEO job since 2007. Wallace has worked at the consumer products giant since 1987.
Walmart – The retailer and Google-backed delivery service Deliv have ended a same-day grocery delivery partnership, according to a Reuters report.
Gannett – The USA Today publisher continues to say a takeover proposal from Digital First Media is inadequate, following meetings this week with representatives of the newspaper operator.
Amazon.com – Amazon bought startup WiFi system maker Eero for an undisclosed amount. Eero makes so-called "mesh" WiFi equipment, designed to eliminate dead spots in the home.
Amkor Technology – Amkor issued weaker than expected sales guidance for the current quarter, with the chipmaker and Apple supplier saying the outlook reflects an "inventory correction" currently underway in the smartphone market.
Chegg – Chegg reported better than expected earnings and revenue for its latest quarter, and the educational technology company also issued strong revenue guidance. The quarter's results were drive by a 34 percent boost in subscribers.
["source-cnbc"]