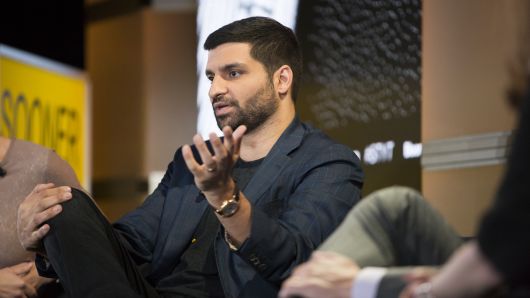 A Silicon Valley start-up is rolling out software that allows customers of lenders including U.S. Bank and Wells Fargo to apply for home equity loans through their banking apps while shaving weeks off the process.
The tech company, Blend, has already made inroads in the realm of home loans: It processed $230 billion in mortgage applications last year for banks and credit unions. Now it's hoping to grab more of the overall real estate loan market with products that let homeowners tap equity in their property.
The upside for customers of banks that use Blend's software is faster access to cash: A process that typically takes five to eight weeks can get done in about three weeks, according to Blend CEO Nima Ghamsari. Its product is a digital portal that saves users the hassle of providing financial documents by sourcing information directly from payroll providers or the Internal Revenue Service, he said.
"The way it used to be was that people had to fill out a paper form or work with a loan officer to get the home equity process started," Ghamsari said.
Applicants would "be asked to pull a bunch of documents like pay stubs to verify income, their credit situation, and to do things like an appraisal and get your title and then have documents sent to you physically for you to sign and review," he said. "We're taking that analog process and making it digital."
$6 trillion
Thanks to rising home values, Americans are sitting on a record $6 trillion that can be tapped through home equity loans or cash-out refinances, according to data provider Black Knight. Banks may focus on that segment while the purchase mortgage market slows because of rising interest rates and diminished affordability.
Blend is the latest example of a tech start-up that works with banks, rather than competing against them, to bring easier to use digital services to the financial industry. The traditional mortgage industry is also competing with online offerings like Quicken Loans' Rocket Mortgage, which has helped that lender gain market share.
The home equity loan or line of credit application takes about 20 minutes via a bank's mobile phone app or website, according to Blend, and documents that need to be signed are sent digitally. The company gets a fee for every loan that is successfully closed through its software.
Blend, which has 130 banks and credit unions as clients, including giants like Wells Fargo, was founded in 2012 and is backed by investors including Andreessen Horowitz and Greylock Partners. It was valued at about $500 million in 2017, according to The Wall Street Journal.
Lynn Heitman, an executive vice president at U.S. Bank, said it partnered with Blend to "simplify and streamline the banking experience for our customers to help them achieve their goals," from home renovations to debt consolidation, she said.
The industry isn't done fixing the loan process, according to Ghamsari. The goal for Blend is to simplify the application into a "one-tap" approval process, reminiscent of the "one-click" purchasing tool that Amazon pioneered in the world of e-commerce.
"The process of being approved for these loans and lines will be one-tap within the next five years," he said. "And the ability to check out will be as simple as, here's your remaining items we couldn't do automatically. Those things will be embedded in a one-stop shop for the consumer. Those things are coming."
["source-cnbc"]