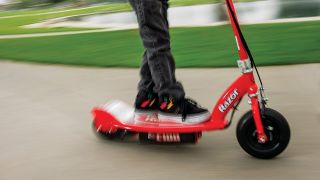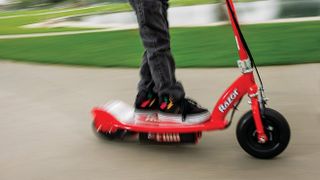 The best electric scooters for kids provide a fun and inexpensive way for your child to cruise around the neighborhood with friends. Unlike push scooters, electric scooters have a motor and battery that lets your child scoot around without having to kick their feet.
Just like electric scooters for adults, there are plenty of options for kids, too. Many are made by Razor, the company that kicked off the scooter craze in the 90s. It still offers kick-style scooters, but now has a range of electric scooters for kids, too. However, other brands like Segway have also entered the market, so there's more choices than ever.
Fun for grownups: Best electric scooters
Best GPS trackers for kids
The best bike helmets for protecting your head
Electric scooter Black Friday deals
While we're still a month away from Black Friday, retailers have started to offer discounts on electric scooters — including a number of models for kids. Be sure to check out our Black Friday scooter deals for all the latest sales. Given that it looks like there will be shipping delays this holiday season, it might be worth ordering something earlier. And be sure to head over to our best Black Friday deals page for other products, from phones to TVs and more.
What are the best electric scooters for kids?
Generally, Razor makes some of the best electric scooters for kids, highlighted by the Razor E100. This model, meant for kids 8 and up, costs about $125, is solidly built, and can provide your child with some thrills — within reason. It's easy to put together, too.
If you're looking for something more portable, check out the Segway Ninebot Kickscooter Zing E8 or E10. Both models can fold, making them easier to carry if your kid wants to ride the scooter to school. And, they have some fun LED lighting, too.
One thing to note: Most electric scooters for kids lack bells or lights, so it's worth picking up at least a bell, so that your child can warn others.  And be sure to get them one of the best bike helmets, too.
Here are the rest of our picks for the best electric scooters for kids.
The best electric scooters for kids today
The Razor E100 is the best electric scooter for kids overall, as it hits the sweet spot of price and performance, especially for younger riders. It comes in a wide variety of colors, so your child can find one that suits her or his style. This scooter features twist-grip acceleration controls and a hand-operated front brake.
It tops out at 10 mph, so it's fast enough for your kid to get to school on time but not so fast that it ventures into dangerous extreme sports territory. The Razor E100 can manage up to 40 minutes of drive time, or up to 10 miles of distance. Our child rider enjoyed its peppiness as he rode around, but the chain drive is a bit noisy. A newer model, the Razor Power Core E100 ($159), should offer a quieter ride. If you want a little bling, the Razor E100 Glow ($169) has blue LEDs on the deck that light up when you twist the throttle.
One thing to note: The E100 lacks a bell or reflectors, so it's worth investing in some to help ensure your child's safety.
The Segway Ninebot eKickscooter Zing comes in two models, the E8 and the E10. The E8 is designed for younger riders (3′ 9″ to 4′ 9″ and a max weight of 110 pounds), with a max speed of around 8.6 miles per hour. The E10 is made for older kids and teens (4′ 3″ to 5′ 3″ and a max weight of 132 pounds), and can reach speeds of up to 10 mph. The Zing E8 is $199, while the E10 is $229.
Both the Zing E8 and the Zing E10 feature a lightweight folding design, a cruise mode, thumb throttle, and front suspension. They're both available in blue, gray, and pink, and have a hand brake as well as a rear foot brake. Even cooler is their LED lights along the undersides, which our kid thought was pretty neat. However, neither have a bell nor a headlight, but there is a reflective sticker on the rear fender. Although we found it a bit tricky to set up — it has pretty poor instructions — our child tester took to it quickly, and found it was a lot of fun; the fact that it has front suspension definitely helped.
Designed for kids age 6 to 12, the GoTrax GKS has a unique braking and acceleration method. Rather than using hand controls, it has two buttons on the deck of the scooter. Step on the first button and then kick off to start the scooter moving; step on the second button to accelerate. When it's time to stop, simply take your foot off the rear button and press down on the fender. Our child reviewer found it very easy to figure out, but the small deck caused the scooter to slow down every time she shifted her feet.
The GKS is lighter than most other kids scooters and has a hub-mounted 150-Watt motor, which should make for a silent ride. However, it has a 6-inch rubber wheel, which meant a bumpier experience than air-filled tires. And, its range (up to 4 miles) is shorter than other scooters. It also lacks bells and lights, and there's no reflector on the rear fender. But overall, it's a very good electric scooter for children starting out.
Read our full GoTrax GKS electric scooter review.
The Razor Power Core E90 is the best electric scooter for kids on a budget. Like the E100, it tops out at 10 mph and can manage up to 70 minutes of continuous cruising. It features push-button acceleration and a hand-operated front brake, as well as a retractable kickstand, so it can stand upright without tipping over.
However, the Razor E90 has a slightly less powerful 90-watt motor, so it'll be slightly slower to accelerate than the E100, and have a tougher time getting up hills. And, like the E100, the E90 lacks a bell or reflectors.
If your child is aging out of the Razor E100, the Razor E300 is a good step-up electric scooter for adolescents. Made for kids aged 13 and up, it has a more powerful 250-Watt motor, a max speed of 15 miles per hour, and can accommodate riders weighing up to 220 pounds.
The styling is similar to Razor's other E-series electric scooters, with a solid steel frame and a curved deck that swoops up to cover the rear wheel. It also has larger 9-inch pneumatic tires, which should provide a more comfortable ride, even without suspension. Razor also offers a seated version, the E300s, for about $50 more. However, as with the other E-series electric scooters, there's no bell, lights, or reflectors.
When your kid heads off to school, the Razor EPrime is a great scooter to get them there. It has a sleek aluminum frame that folds down neatly for storage. At 22 pounds, it's light enough for kids to carry, too. While its tires are not inflatable, they are fairly large at 8 inches, so that should help to mitigate bumps on the road.
The EPrime has adjustable-height handlebars, and thumb-activated paddle-style controls for both the accelerator and brakes. The EPrime has a rear 250-Watt motor which gives it a top speed of around 15 mph, but its range of 7.5 miles/40 minutes is a little short, so your kid may have to recharge it every night. There is a convenient battery level indicator, but disappointingly, there's no bell or reflector.
Stylish kids who prefer to sit down instead of standing up may like the Razor Pocket Mod Miniature Euro electric scooter, a seriously cool ride. Like the rest of the Razor family, it comes in a variety of colors and even features a cubby for stowing books, jackets or whatever else needs to be stored.
Like the Vespa you'd see zipping around the streets of Paris or Rome, the Pocket Mod features a twist-grip throttle and a rear suspension system, so it's a comfortable ride. The 12-inch tires are a bit bigger than the norm, but that's to help sustain its top speed of 15 mph for up to 40 minutes of riding time.
How to choose the best electric scooter for your kid
Here are three things to consider before buying an electric scooter for your child:
How big is your kid? Many electric scooters made for kids have a weight limit of 120 pounds. Even though your child may weigh less than that, a bag loaded with schoolbooks may push it over the limit.
How old is your child? The electric scooters we recommend on this page are intended for children ages 8 and up. For kids younger than that, we recommend nonelectric scooters.
How far does your child have to go? If you're getting your child an electric scooter so they can get to school and back, consider how far they have to travel. If it's a longer distance, you'll want to get a scooter with a better range, so your kid doesn't get stuck pushing the scooter home.
Safety tips for children
Always wear a helmet
According to a national poll at the University of Michigan (initially reported in the The New York Times), only 59% of parents said their child wears a helmet while riding a bike, skateboard or scooter. Don't be part of the 61% whose kids don't. Equip your child with a helmet like the Razor V-17 youth multisport helmet, the Bell Rally child helmet or the Woom Bikes USA kids' helmet. The Woom helmet, in particular, is an excellent choice because it extends over the temples and back of the head for full coverage.
A little less than half of all states have laws that require children age 17 and under to wear helmets when riding bicycles, while nearly all states have laws regarding the use of helmets when riding low-powered cycles, such as electric scooters.
For extra protection, consider investing in a pair of elbow and knee pads for your kid. Look for a set that includes wrist guards. Reflective gear is also a good idea if your child will be riding close to sundown.
Add bells, horns, and lights
To keep the price down, many electric scooters for kids lack bells, horns, or lights, which is a shame. Fortunately, all of these can are inexpensive and can be easily found online or at a local bike shop. At the very least, we recommend adding a bell to the handlebars.
Don't budy up
Kids like to have fun, but remind them that buddying up with a friend on an electric scooter isn't the best idea. Every scooter has a weight limit, and even if your child and a friend come under that number, putting an extra person on the vehicle makes it harder to balance and steer.
Check local laws and regulations
A Consumer Reports survey found that more than 1 in 4 riders weren't entirely sure about the traffic laws related to riding electric scooters. If you, too, aren't sure, check with your city about its rules. In most cases, you can't ride e-scooters on sidewalks and instead have to use bike lanes and share the road with cars. If you're anxious about your kid riding across busy intersections, try to map out a route that avoids streets with high pedestrian and car traffic.
Learn to use hand signals
It's never too early to learn the universal language of hand signals. That's right: The DMV-mandated signals for turning left, turning right and stopping come in handy when riding an electric scooter. To keep your kid safe out on the road, make sure that they not only know these signals, but also understand how to properly use them. However, it can be tricky to make a hand signal and ride a scooter with one hand.
Avoid hauling extra weight
Your child will likely travel with a backpack on the way to school. But make sure they understand that hanging a bag, or even a sweater, on the handlebars of their scooter can throw the vehicle off balance. If carrying cargo is a concern, consider an electric scooter that's outfitted with a basket or storage space.
Check for defects
Electric scooters require a bit of assembly before they're ready for the road. For models like the Razor E100, you'll have to attach the handle to the base before the scooter's ready to roll. Once it's assembled, do a thorough safety check. First, perform a visual inspection, to confirm that everything is connected correctly and the wheels are inflated and sturdily in place.
Then, charge the battery to full power and take the scooter for a test run. Check out the brakes and throttle, trying them really hard. If you find a defect with the product after you've taken it around the block, contact the manufacturer immediately.
Teach your kid how to ride properly
Electric scooters are not as tolerant of bumps and potholes than cars because the wheels are smaller. Before your kid ventures out on their own, take them around the block for a few test runs. Teach them how to safely take off, accelerate and decelerate, hit the brakes, and maneuver around uneven sidewalks and sticks in the road. Manufacturers often include safety instructions with the scooter that you can refer to as you teach your child the ins and outs of driving their new vehicle.
How we test the best electric scooters for kids
By putting them in the hands of kids, of course! We let a few kids between the ages of 7 and 10 try out the scooters, to see how easy they are to master and how fun they are to ride. All rides are done under the supervision of adults, and the children are wearing appropriate safety equipment. After, we ask them for their impressions — that is, if we can get them off the scooters.
Because most of these scooters requires at least some assembly, we also consider how long, and how difficult they are to put together.
["source=tomsguide"]