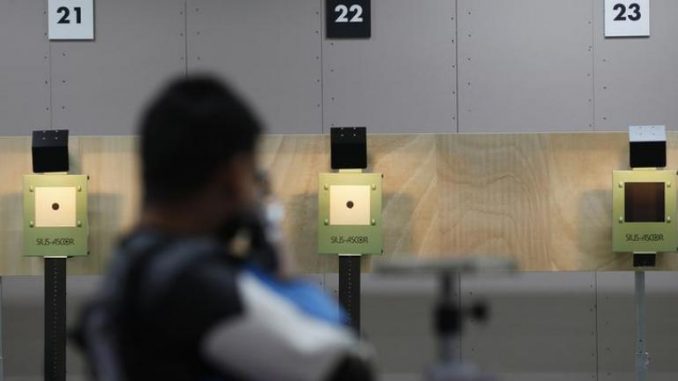 India not issuing visas to Pakistani shooters is being viewed as a discrimination by the IOC (Reuters Photo)
IT may sound cliched when they say it is best not to mix sport with politics but, when it happens, there is a heavy price to pay.
On Thursday, the International Olympic Committee (IOC) stepped in to strip the ISSF World Cup shooting beginning in the Capital on Saturday of all 16 quota places that were at stake for the Tokyo Olympic Games next year.
From the time India refused to grant visas to two Pakistan shooters and their manager to be able to compete in New Delhi, concerns were raised. With the Pakistan shooting federation increasing the pressure and asking the International Shooting Sport Federation (ISSF) to remove quota places in one event, things heated up.
Despite ISSF president Vladimir Lisin, Indian Olympic Association president Narinder Batra and NRAI president Raninder Singh meeting the sports ministry, nothing tangible emerged. Once the IOC was brought into the picture by ISSF, it instructed the International Federation that quota slots would not be available at the New Delhi World Cup.
At the opening ceremony held at the Karni Singh ranges, Vladimir Lisin said on stage: The bad news is that Pakistan have not been granted visas for this World Cup and according to the IOC Charter, there should be no discrimination. The IOC has informed us no quotas will be distributed at this World Cup but at a different World Cup.
This is not the first time the IOC is taking a serious note where a host country has not granted visas to athletes of a nation. Last year, when New Delhi hosted the AIBA women's world boxing championship, pugilists from Kosovo did not get visas. At that time, too, the IOA had raised the issue with the government but to no avail.
A communication had been sent to the Pakistan shooting federation by the high commission of India in Islamabad last week that visas had been granted. However, within a couple of hours, there was another communication that the visas were still under consideration.
Since the time 40 CRPF personnel were killed in a terror attack in Pulwama on February 14, many have called for a ban on sporting ties with Pakistan. With India scheduled to play Pakistan in the ICC World Cup in England this summer, former cricketers asked for a boycott of that match. Even the BCCI was under pressure to write to the ICC that India would not play Pakistan.
The message from the IOC is very clear. Not issuing visas to Pakistani shooters is being viewed as a discrimination. To say that this is a big blow to Indian sport is an understatement, said an official of the Indian Olympic Association.
For their part, Indian shooters and NRAI have spent large resources, time and effort in preparing for the World Cup. The home advantage and hope of winning quota places has been wrecked. On its part, the ISSF had but no choice and rely on advice from the IOC. India are slated to hold another World Cup in 2020 and the ISSF may take away those hosting rights.
As of now, Indian shooters will have to treat this World Cup as another international event and hope quota places in 2019 are won abroad. At a macro view, hosting any major international sporting events in India will now get more difficult.
["source=indiatoday"]