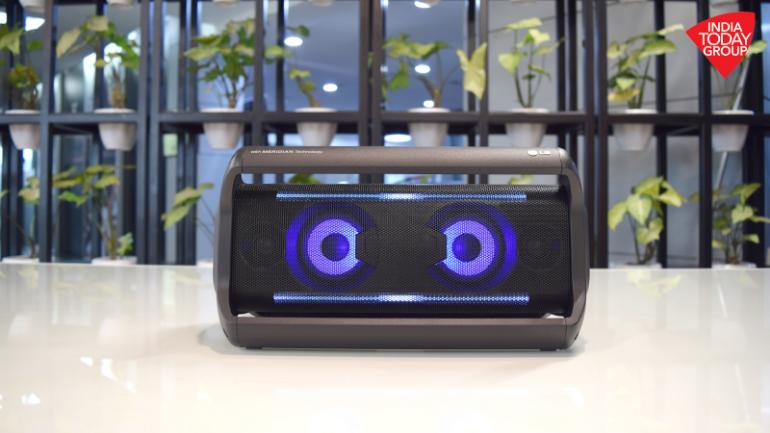 In the past couple of weeks, I have talked in depth about LG's X-Boom Go Bluetooth speaker series that was launched in India late last year. Last week, I reviewed the LG X-Boom Go PK5, a mid-sized Bluetooth speaker that produces pitch-perfect sound. PK5 is second in line after PK3 and it stands ahead of the LG X-Boom Go PK7, the last of the three speakers in the series.
The LG X-Boom Go PK7, which is the star of this review, is the biggest in LG's X-Boom Go lineup. It is also the jazziest of the three siblings and it delivers the same bass-loaded sound that, as I have noted in my previous reviews, is characteristic to the X-Boom Go series.
In India, the LG X-Boom Go PK7 is priced at Rs 22,990, which is clearly an awful lot of money to be spent on a Bluetooth speaker. However, its quality clear audio quality, booming bass sound and its extended battery life makes it worth the price. And if you like gizmos to reflect on your upbeat style, X-Boom Go PK7 has plenty of jazz to match your personal style statement.
Bigger and jazzier
The LG X-Boom Go features the same cuboidal design that is characteristic to LG's X-Boom Go series. Only it is bigger and much heavier than its younger sibling, PK5 that is. For reference, while the PK5 220 x 129 x 119 mm, PK7 measures 320 x 167 x 152mm. And unlike its younger sibling (PK5), which weighs just over 1kg, X-Boom Go PK7 weighs 2.95kg. With that kind of weight, it could easily be used for weight-lifting exercises at home on a cloudy day when you feel like skipping the gym (just kidding!). But since, you are not going to dance around the bonfire keeping PK7 on your shoulders like a typical boombox, the weight is not an issue that you should be worried about!
As far as the built goes, just like PK5, X-Boom Go PK7 comes with a casing, two on top and two at the bottom, that protect the main body of the speaker, provide more stability to the overall design and make carrying this gigantic watermelon (or a cultured watermelon maybe?) easier. On top of its cuboidal body is a set of buttons that allow you to connect with your personal computer or your smartphone and get the settings right so that you get the best audio experience depending on what you are listening to.
On the top, there is a power button, which is situated right next to the Bluetooth button. Other than that are buttons to control the volume, play or pause the audio, access the virtual assistant on your source device- Siri or Google Assistant, to focus on the vocals — Clear Vocals or CV, and to focus on bass – Extended Bass or EB. At the back, there is a port to plug in the DC charger, a 3.5mm port and a button to reset the speaker. On the sides are two flaps, just like PK3 and PK5 that vibrate when you plan bass-heavy tracks.
However, the jazziest part of the speaker is its front that showcases a myriad of colours as it buzzes to life and plays music. The light show in case of the X-Boom Go PK7 is not restricted to its giant owl-like eyes. Instead it stretches to two line-like structures above and below the eyes, which makes it funkier. And with the right music in place, its colour show can even make you feel a bit trippy!
Lastly, the X-Boom Go PK7 comes with IPX5 certification. While this makes it immune to a bunch of water drop that might accidentally land on it, but it doesn't make it resistant to water. Simply put, it's good for a day out as long as you keep it away from a pool or a beach.
Booming bass sound
LG is known for its signature sound that is both clear and bass heavy. The LG X-Boom Handy Splash speaker, the X-Boom Go PK3 and the X-Boom Go PK5 that I reviewed recently feature this signature sound. The X-Boom Go PK7 is no exception to this rule.
It features a loud and booming sound that remains balanced even at high volumes. Over the span of 10 days that I used the X-Boom Go PK7, I tested the speaker with a host of music genres and I mostly liked what I heard.
The jazziest part of the speaker is its front that showcases a myriad of colours as it buzzes to life and plays music.
I tried popular Pop songs like Moves like Jagger by Maroon 5 and Timber by Pitbull on standard settings and I could feel the thumping prominently. While listening to the songs on EB mode on full volume made me feel as in I was standing in the middle of a raging party, using the CV settings on the same volume accentuated the highs a bit too much, so much so that I had to lower the volume down to around 70 per cent volume. However, at around 60 per cent volume, the sound was pleasant.
I got a similar experience when I listened to some of the Rock anthems such as Deff Leppard's Photograph and Imagine Dragon's Radioactive and EDM classics such as Alan Walker's Faded and Avicii's Waiting for Love. On the other hand, listening to Country tracks like Luke Combs' Beautiful Crazy and Florida Georgia Line's Simple on EB mode made me feel as if I was witnessing a live performance in a bar (short of some beerhiccup, hiccup). Though problem with CV settings- accentuating highs a bit too much – persisted here as well.
On the other hand, popular Acoustic tracks like Ed Sheeran's Photograph and Adele's Make You Feel My Love felt a bit clearer with the CV settings on, while Sufi classics like Loy Mendosa's Sajda and Ambitabh Bhattacharya's Iktara sounded closer to a band-like performance with both the CV and EB settings turned on.
Apart from delivering a great bass effect, the X-Boom Go also houses some interesting features. For instance, you can connect two source devices– two phones, two laptops or a phone and a laptop– with the speaker at once and it will take requests from both based on a simple principle – fastest finger first! Just like its younger sibling, PK5, PK7 also comes with AptX support and a button to invoke the virtual assistant on the source device. Both the features, as expected work flawlessly.
Long battery life
Battery is definitely one of the strong suits of LG's X-Boom Go series. While X-Boom Go PK5 gives about 17 hours of battery life, the X-Boom Go PK7 takes it a step further and delivers about 20 – 21 hours of battery life on standard settings. With a battery like that you can plan a two day camping trip with your friends and go dancing around the bonfire at night without worrying about the speaker throwing a nervous fit.
It takes about 4 hours to go juice up completely and go from 0 to 100 per cent and once charged it will support you for a sufficiently long time.
X-Boom Go PK7 just like its younger siblings – the X-Boom Go PK3 and X-Boom Go PK5 – comes with an LED on top that updates you about its battery status with ease. It blinks green when the battery is completely charged and red when it is low on juice or charging. The good thing about this speaker is that it gives you a good two hours before the battery drains out completely. Another feature that it borrows from its siblings is its battery-conserving feature that makes the speaker turn off automatically if the speaker remains unused for over 10 minutes.
Should I buy LG X-Boom Go PK7?
The answer to this question is pretty simple: yes. The LG X-Boom Go PK7 delivers a peerless bass sound that is refreshing, balanced and clear. The booming bass sound, which is the USP of the series can be felt clearly from a distance away.
It features a loud and booming sound that remains balanced even at high volumes.
Play song from any music genre– pop, rock, country, Sufi or EDM EB, settings gives your the best of what PK7 has to offer and it will give you the sound that will make you leave your shyness behind and dance, even if it is in your room. CV settings, on the other hands, despite adding another layer of clarity where you can hear every string strum clearly, accentuates the highs a bit too much, especially if you are listening to the songs on high volume. I particularly found myself lowering the volume to about 70 per cent while fiddling around with this button.
Admittedly, a price of 23K is a bit too much, despite the bass effect and a long battery life, but if you are looking to buy a speaker that provides a bass-heavy sound, PK7 definitely goes high up on the check-out list.
["source-indiatoday"]