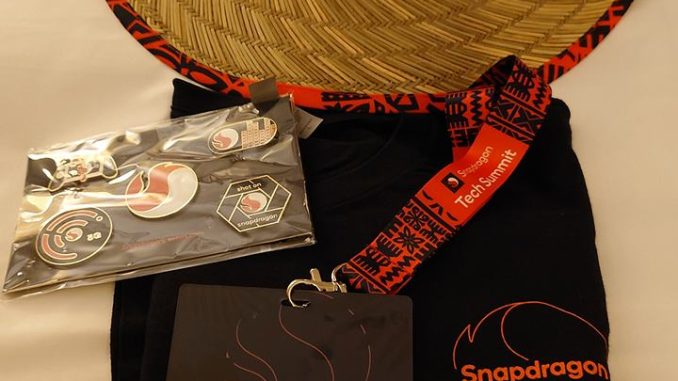 Aloha from the Snapdragon Tech Summit! I'm Miguel— @LTEstyles on Twitter. And I'm really excited to have this opportunity to share with you my experience here at the SnapdragonTech Summit in beautiful hawaii!
I'm here to get you caught up on all the happenings from Day 1of the #SnapdragonSummit, but first …
.. about last night. After a quick meet and greet, I headed to my room, and this was waiting for me — Snapdragon Insiders swag! What's my favorite? Clearly the Smartphone for Snapdragon Insiders.
Later on, I met up with all of the attendees. Great crowd! I even got to chat with a few Snapdragon Insiders I met in New York at a previous event. Wasn't too late of a night as we had an EARLY start today, but it was TOTALLY worth it. We headed to beautiful North Kohala (what isn't beautiful on this magnificent island?) for an off-roading tour complete with waterfalls, rolling hills, and wild cows! Snapped pics for a few hours on my Smartphone for Snapdragon Insiders.
We're submitting the best of our pics for a #ShotOnSnapdragon photo contest. And you can help determine the winner. Head to the Snapdragon Instagram account (@snapdragoninsiders), swipe through, and leave a comment with your favorite. Here's one of my favorite shots I took today…
Got back to the hotel, rested up for a bit, and then headed to the demo rooms to get some up-close-and-personal time with the new Snapdragon 8 Gen 1 Mobile Platform. From Al, to audio, to camera and gaming, we got to see demonstrations of the platform's premium features. And, wow.
After a quick lunch, we found our way to the Grande Ballroom for the keynote. President and CEO Cristiano Amon got things started, and then we heard from a bunch of folks from Qualcomm and its partners about what makes Snapdragon 8 Gen 1 incredible.
We also heard from some of the companies who will be announcing phones with this industry-leading platform.
Took a quick break in the Snapdragon Insiders Lounge. Swanky!
Back out to hear the experts do a deep-dive on Snapdragon 8 Gen 1's features.
In the evening, we gathered for a session on the platform's camera capabilities. We went over everything, from 8K HDR 10K capture to panoramas to motion blur photography.
Had to do the obligatory IG photo op with the Snapdragon Insiders surfboard. Want it.
Caught JP Saxe's set. His album Dangerous Levels of Introspection just debuted. Favorite from his set: If the World Was Ending.
Not sure if you know, but Snapdragon recently teamed up with Amazon Music. Sign up for Snapdragon Insider emails to get 4 months of free access to Amazon Music Unlimited.* And check out JP Saxe's music on this awesome HD playlist.
After that, we all headed to dinner. Great meal. Great people.
And now, rest.
Looking forward to tomorrow! Hey, don't forget to vote in the photo contest!
Check back tomorrow and the following day for more behind-the-scenes action.
["source=qualcomm"]