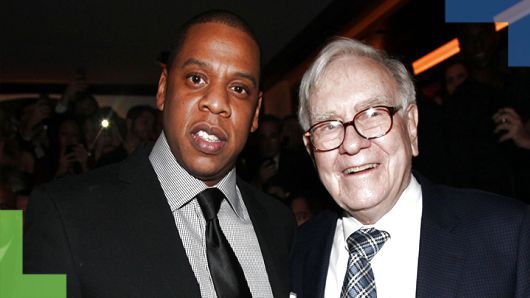 Americans want help from Warren Buffett.
More than 40 percent of people said they'd be most likely to take investing advice from the Oracle of Omaha, according to the Acorns 2018 Money Matters Report.
Buffett, the investing wiz who knocked on doors selling chewing gum as a child, is now worth $83.6 billion.
The report also found that 32 percent thought Oprah Winfrey is the best choice to discuss their finances. Just 17 percent think President Donald Trump should be their go-to guy.
Just 5 percent of people want financial wisdom from Jay-Z or Facebook Chief Operating Officer Sheryl Sandberg, despite their success.
So what is Buffett's advice? "[I]n 10 or 20 or 30 years, I think stocks will be a lot higher than they are now," Buffett has said. "If you buy them over time, you basically can't lose."
Still, many Americans are delaying investing until their financial situation improves, the Acorns report found
"There's a sense that this is too big a mountain to climb," Acorns CEO Noah Kerner said.
Half of respondents didn't invest any money in 2018, while 80 percent of those who did put less than $5,000 in the market.
Acorns commissioned SurveyMonkey to conduct the research.The survey was not directed at Acorns customers. SurveyMonkey interviewed 3,403 people in November.
Another study, by TD Amertrade, found that the average millennial doesn't expect to start saving for retirement until their late 30s.
People in the Acorns report said they're staying on the stock market sidelines until they get a raise, find a new job or pay off their debt.
Yet the decision to postpone investing is likely to become a regret, experts say.
"If you start late, you will never catch up to the person who started early with the same amount," said Michael Taylor, the author of "The Financial Rules for New College Graduates."
Taylor provided some math to demonstrate the importance of starting early.
If you save $5 a day in an account with a 10 percent annual return, you'll have around $30,000 in 10 years, $330,000 in 30 years and $2.3 million in 50 years, Taylor said. (The S&P 500's annual rate of return over the last 90 or so years has been around 10 percent. After adjusting for inflation, it's closer to 8 percent, however.)
["source-cnbc"]