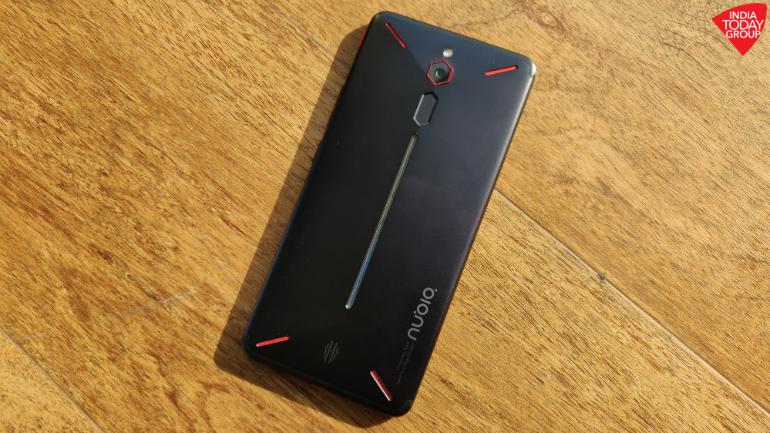 Last year, the mobile industry took mobile gamers seriously after popular online multiplayer games such as PUBG MOBILE and Fortnite proved to be extremely successful. Asus came up with ROG Phone, a smartphone dedicated for mobile gaming with a tweaked Snapdragon 845 chipset. Soon after, many brands from China came up with dedicated gaming smartphones. Xiaomi came up with the BlackShark and Poco brands for catering to two distinct groups of consumers. Nubia also came launched the Red Magic and followed it up later in 2018 with the Red Magic Mars.
In India, Nubia wanted to a re-entry that would be noticed. So, instead of coming up with a sub-Rs 20,000 smartphone, the company chose the gaming segment as its priority and launched the Red Magic. Priced at Rs 29,999 with the variant that has 8GB RAM and 128GB storage, it undercuts the fan-favourite OnePlus 6T by a huge margin. However, when you look at its specifications, especially the older Snapdragon 835 chipset, it does struggle to appeal when you consider that Xiaomi sells the Poco F1 for at less.
So, does the Red Magic make sense at a time when the world is gearing up for the ultra-powerful next-generation Snapdragon 855-powered smartphones? It's surely fast and runs the games well. But yet, I have to say no. And that's a pity because I do find that the Red Magic pretty good in some areas and would have liked to recommend it. So, why I can't? Read on.
Nubia Red Magic design: You can't ignore it
At a time when all smartphone manufacturers are adopting the fragile glass as the primary material for building the bulk of a phone, the Nubia Red Magic is a step in the opposite direction. The Red Magic is a metal unibody phone, and this means I can use the phone without snapping bulky and ugly case on it. Wonderful! Metal is also more durable against damage and ages better than any glass smartphones because it hides scratches and wear-and-tear better.
However, unlike most other metal-body phones, the Red Magic goes for an unconventional design, a design that no other manufacturer would have dared in today's highly competitive market. The side-effect of this is the hint of impracticality. You can't use the Red Magic while it is placed flat on a table without wobbling it every time you tap on it. Just look at the rear of the Red Magic.
But that aside, look at the phone's unique pyramid-like shape with a central ridge that features a massive RGB LED light. It delights the gamer in me. It is enough to get me excited about a smartphone. Why don't other companies put big RGB lights at the back of their phones?
And if this wasn't enough, Nubia went on four red-coloured accents for the heat vents and the speaker, which is undeniably cool. Even the camera is housed in a trapezoidal module surrounded by red accents. The fingerprint sensor matches the rest of the theme. The subtle Red Magic branding and the Nubia logo towards the bottom complete this extremely excitable rear panel.
Sadly, when you look at the front, after all that excitement that rear of the phone delivered, you feel bored. The front is dominated by a large 6-inch display with an aspect ratio of 18:9. This translates to bigger bezels on the top and bottom. There's no hint of a gaming phone here — no red accents, no graphics, no RGB lighting — nothing!
The side features the usual array of buttons and a OnePlus-style slider. However, the slider is only used in enabling or disabling of the GameBoost mode. More on that later.
In short, the design of the Red Magic is kinda exciting. The front could have been better, but otherwise, the phone looks cool and different.
Nubia Red Magic display: Nothing to see here
One of the most important criteria that a gaming smartphone needs to hit right is the display. After all, a display is the only way powerful specifications can show their efforts. Since the Red Magic was conceived in early 2018, It comes with an 18:9 display with a thick forehead and chin. In my opinion, this design is better than a notched implementation. But this is where my good impressions end.
A 6-inch IPS LCD display with full HD+ picture resolution isn't bad by any means. However, the panel's colour rendition is simply average. The LCD panel produces dull colours with average contrasts. Sunlight legibility is decent while viewing angles are reasonably wide. I have seen better LCD displays at this price point or even in phones that are priced way cheaper than this one. Nubia lost an opportunity here.
Nubia Red Magic performance: Goliath to Davids
When the Red Magic was launched, I was wondering whether a gaming smartphone would keep up with the modern slew of Snapdragon 845-powered smartphones with its old Snapdragon 835. With my doubts intact, when I started reviewing the phone, I loaded up the Red Magic with most of the high-resolution graphics-intensive games such as PUBG MOBILE, Fortnite, Asphalt 9, Freefire, F1 Mobile Racing and Need for Speed: No Limits. And sure enough, as I expected, the Red Magic deal with them all magically.
The RGB light is enough to get me excited about a smartphone. Why don't other companies put big RGB lights at the back of their phones?
The Snapdragon 835, despite being so yesterday in the eyes of geeks and gamers, still holds itself well in managing whatever the latest gaming titles can throw at it. PUBG Mobile came at a time when the Snapdragon 835 was in its heyday, hence it ran on the highest graphics settings. Asphalt 9, being a slightly modern title, compromised the frame rates while Fortnite chose to stay comfortable in medium settings. Gameplay was smooth most of the time, thanks to the overclocked 2.45GHz Snapdragon 835 processor and 8GB RAM.
There is one more factor that helps with the surprisingly smooth performance, stock Android interface. Yes, instead of loading their custom Red Magic interface, Nubia knew enthusiasts in India value stock Android over everything else. Therefore, they took the AOSP launcher and added their performance modifications to it. With probably lesser load from the operating system, the phone could dedicate entire resources to what's on priority. Nubia also made several under-the-hood optimisations to make sure the software supports the hardware when consistent peak performance is required. I played PUBG MOBILE and F1 Mobile Racing for close to two hours and never throughout the session I saw the phone panting for breath. The heat was kept under control — thanks to the air cooling.
The GameBoost mode claims to kill background processes and boost performance. However, what I liked is that the Gameboost slider also puts the phone in Do Not Disturb mode. This disables all notifications, which improves concentration. The Gameboost mode also activates the RGB light show on the rear. There are four lighting patterns to choose from. While playing, the light show keeps going on. This gives a very gaming-laptop-like vibe.
The audio performance is reasonably good. The single loudspeaker at the back is very loud and manages to cover a wider range of frequencies, with distortion happening only on the loudest volume levels. Audio through the 3.5mm headphone jack was impressive.
Sadly, the same cannot be said when I wasn't gaming. Optimising a stock Android interface for gaming is good, but tuning it for basic smartphone usage is also necessary. It is 2019 and the Red Magic is running on Android Oreo 8.1. What irks, even more, is that the security patch if from August 2018. Therefore, in terms of security, you are left vulnerable.
The operating system also lacks proper optimisation and comes with a lot of bugs. There were occasions that I had to resort to rebooting the phone at least three times a day. The sound profile would weirdly go into DND mode, even when I have selected the Ring mode. The interface is also unpolished, especially with an unbalanced grid on the home screen.
The biggest issue I have with the software part is that it's very boring for a gaming smartphone. I understand that stock Android boosts performance, but I would have preferred a customised interface with exciting wallpapers, themes and sounds — something similar to OnePlus Oxygen OS. The dull interface doesn't differentiate it from any other budget smartphone with a stock Android Oreo interface. Maybe an Android Pie update could sort things in the future, but I don't see a promised update in the foreseeable future considering the security patch is still stuck 6 months ago.
Nubia Red Magic camera: Neither bad nor excellent
The Red Magic sports a 24-megapixel rear camera with an F1.7 lens and phase-detect autofocus. Unlike the trend of putting dual cameras, there's only a single sensor at work for the rear. With slight AI enhancements at work, the camera shoots some decent looking photos. In the daylight, the Red Magic's camera is up there with other phones in its price segment. Images contain bright and vivid colours while contrasts are impressive in daylight scenarios.
In low light ambience, the camera starts losing details because of aggressive noise suppression. Exposure management also falls drastically. Pictures clicked at night barely show anything in them. Video recording is capped to 2160p@30fps. The quality is rather average and with lack of any stabilisation, it leaves a lot to be desired.
["source-indiatoday"]